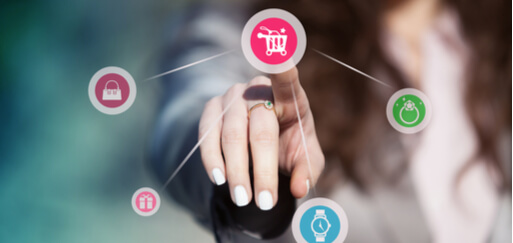 Retail Technologies: How They Help to Boost Sales
It's no secret that the retail diamond industry is facing some tough challenges. From lab grown diamonds, to a booming second hand market, to online trends and large retail chains, it's often the "mom and pop" brick & mortar stores that feel the full heat of the pressure. Despite all this, research has shown that buyers still crave the personal human touch of the traditional in-store experience. Yet as the saying goes, there's no such thing as standing still. Even though customers want to visit the jewelry store, retailers must provide an up-to-date, captivating experience to keep customers coming back. Thriving in today's retail market is all about getting up to speed with new and emerging retail technologies that can upgrade the experience retailers offer to customers. In a tough market, this can make a huge difference.
Retail Technologies are All About Speed
Customers are busier today than ever before. Constantly on the go, and constantly connected to their mobile phones. Whether it's online shopping, online dating or online learning, customers are becoming used to getting what they want – and rejecting what they don't want – with a fast swipe on the touch screen. Traditional retailers need to adapt the in-store experience to satisfy the quick-gratification lifestyle that we've become so used to. While an in-store experience will never mimic an online one, retailers can and should find ways to make the shopping experience as efficient, focused and easy as possible.
One of the more recent retail technologies to hit the market includes self-checkout or pay-as-you-go technology. Both of these technologies have a double benefit – for the customer and the retailer. For the customer, there's no need to wait in line to pay, so they save both time and frustration. For the retailer, there's a reduced need for manpower, which saves on costs and makes the customer happy – so they'll hopefully return again and again.
Diamonds Going Digital
Studies show that 8 in every 10 young adults are now shopping on their mobile phone. In fact, for the Asia-Pacific region, online retail via mobile is expected to grow at a CAGR of 15.6 percent to reach one trillion dollars by 2020. This makes it even more important for retailers to optimize their sites for mobile shopping. By developing a full-bodied digital site, retailers make it easier for customers to close on purchases, which of course increases revenues. Experts in the field believe the switch in focus from a brick-and-mortar dominated world to a digital one will lead to "serving" customers rather than "selling" to them. This places the customer's needs front and center, which in turn creates better customer relationships and greater customer loyalty.
Information and Personalization
The old saying "knowledge is key" still holds true. If customers are more informed, then they better understand the product, and are more likely to make the right purchase. Singapore retailer SooKee Jewelry found a space in the diamond market that hadn't been exploited before. They noticed that many customers, especially men buying engagement rings, feel 'lost'.This is due to the complexity of the diamond jewelry market, with so many choices and variables, and so much information and misinformation available. In order to help these customers become informed about their potential choices and feel more secure about their purchase, SooKee decided to implement effective retail technologies to their in-store experience. SooKee partnered with Sarine to offer an online digital diamond report that is downloadable and shareable, containing high quality diamond images and comprehensive diamond information. By making customers more confident in their diamond choice, the company saw sales rise by 10 percent.
As the options for retail technologies grow, the possibilities become endless. A report from Forrester discussed many technology-based approaches within the retail field, including personalization, omnichannel offerings, mobile-optimized digital chatbots and artificial intelligence (AI), as well as a future that could potentially include augmented and virtual reality. In addition, IoT, with smart services and connected devices, that offer point-and-click ease, can significantly enhance a customer's journey.
The truth is, while retailers need to find ways to distinguish themselves in the market for an everything-at-your-fingertips generation, there's no need to break the budget. Innovation is the key factor to bringing in customers. Find something other retailers don't have, solve a pain point, and get digitally connected. Small changes in the right direction could make all the difference.