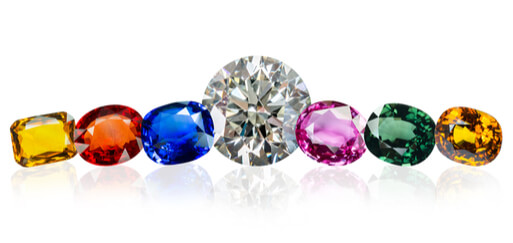 Colored Diamonds – Fashion and Fancy
The Diamond Blog was recently awarded 18th place in the Top 75 Diamond Blogs by Feedspot. In honor of the award, we're reprising our top three most popular blog posts from the past year. In third place, we'll explore the differences between white and colored diamonds. Enjoy!
There are many factors that go into the beauty and price tag of a diamond. By now, everyone's heard about the 4Cs of diamond buying: Cut, Color, Clarity and Carat. But when it comes to fancy colored diamonds, these rules are thrown out the door. In fact, the general determination of worth in colored diamonds is quite the opposite of white diamonds. While with white, lack of color equals maximum brilliance and shine, with fancy diamonds the depth of color is the determining factor.
Colored Diamonds: Beauty Uninterrupted
When it comes to pricing, Fancy colored diamonds are more valuable than white. However, this is not a hard and fast rule. Colored diamonds with a weaker hue may be worth less that a smaller white flawless diamond. Also, the more common colors in fancy diamonds, such as yellow and brown, tend to be less valuable than rarer colors. Until recently, brown diamonds were not deemed "worthy" of jewelry, and were mostly used in other industries. Today, brown diamonds, renamed and rebranded as 'chocolate diamonds', are increasing in popularity.
Which Color?
Of course, the rarity of a stone plays a huge part in determining its value. Here, colored stones win again. White diamonds are more common than fancy. Colored diamonds are created when chemicals penetrate the rock during formation, and are much harder to come by. The rarest and most valuable diamond colors are pinks, blues and greens, with red topping the list as the absolute rarest of any diamond. In addition, saturation makes a big difference. The stronger the saturation, the more intense and rich is the color of the fancy diamond.
Pink diamonds, which come primarily from the Argyle diamond mine in Western Australia, are due to be exhausted by 2020. This factor alone has driven up their rarity and price. Currently, they are 11.5 times as expensive as the finest white diamond, which is internally flawless and has the highest color rating.
Fancy colors offer a level of uniqueness that white diamonds just can't match. With colored diamonds, the wearer can truly express her individuality and style. The color also hides inclusions better, so while a white stone with inclusions loses value, a colored one will not. And as the color is permanent, the inclusions can remain hidden through the entire life of the diamond.
Fancy Colors: Fashion Forward
Finally, fashion and trends make a difference to a diamond's value. While traditonal white diamonds will always remain popular, colored diamonds are currently in vogue thanks in large part to Hollywood trendsetters. From Jennifer Lopez (pink) to Heidi Klum (yellow), thanks to an obsession with celebrities, the spotlight on colored diamonds has also driven up their price. And in fact, two of the most famous diamonds in the world are colored diamonds; the yellow Tiffany Diamond and the brilliant blue Hope Diamond.
So which diamond is the winner in the war of colored versus white? While rarity and current fashion trends dictate colored diamonds as the winner, tradition, availability and ease of purchase may just give the white a small edge.