New Software Release: Sarine Advisor™ 7.0 Rough Planning
By Gilad Shaham, Product Manager @ Sarine
Advisor™ rough planning software is used by manufacturers worldwide to effectively plan polished diamonds and maximize the achievable yield.
Sarine recently released the latest version of the industry-leading software, Advisor 7.0. The release is packed with dozens of new, advanced features, the result of user feedback received from diamond planners working with Advisor all over the world.
A full copy of the Advisor 7.0 release notes can be viewed here.
Let's explore some of the interesting features of Advisor 7.0.
CAP Auto Planning – A Revolution in Rough Planning
It's called CAP, Customized Automated Planning, and it's here to completely revolutionize the way diamonds are planned. The user defines advanced planning programs based on a large variety of shapes, proportions, cut grades, institutes, allocation types and clarities. The programs can be set to run 24/7, immediately after Sarine Galaxy™ scanning, providing hundreds or thousands of solutions even before the stone reaches the planners. Planning options can then be filtered and sorted according to market demand, significantly reducing time to market.
Watch to see how CAP auto planning works.
Customized Pricing
Advisor 7.0 enables full communication between the customer pricing calculator application and the Advisor software, in order to achieve an accurate price calculation for each polished diamond. Customized pricing saves time, reduces human error and makes the pricing process more efficient and effective.
Learn more about Customized Pricing in this video.
Dual Viewer
A new, innovative Dual Viewer enables the planner to view a simulation of the planned stone using various tools, including Sarine LightTM, Hearts and Arrows and Photo Real. The planner can evaluate how the diamond's light performance will alter with each change of the cutting and polishing plan. This enables the polisher to meet retailers' demands for higher quality diamonds, way beyond the traditional 4Cs.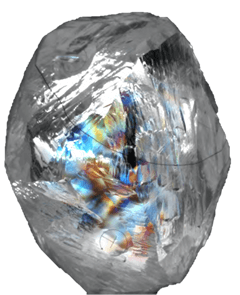 Tension Mapping
For those using Advisor with DiaExpert™ rough planning systems, the new Tension Mapping add on enables rough diamond scanning with accurate video display of internal tension early in the planning stage. This helps the user to make better planning decisions even before the stone reaches the laser department. The result? Increased productivity and a reduced manufacturing cycle.
Many More Features
There are plenty more new features built in to Advisor 7.0, including fully customizable Stones Manager, 15 new fancy shapes and much more. For a full listing, see the release notes.
Watch – Top 7 Features of Advisor 7.0
Want to find out more about Sarine Advisor™ 7.0?
To download the Sarine Advisor™ user manual, visit the Sarine Support page, and select the Rough Planning category.