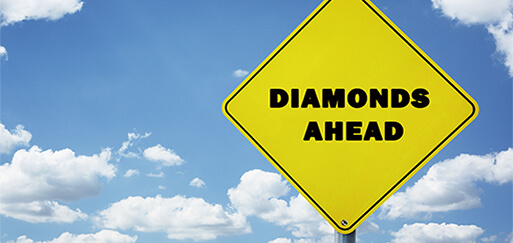 SPECTRUM – Voices from the Diamond Industry #17
In the latest instalment of our SPECTRUM diamond news roundup, we focus on some top picks, including the topic du jour – lab-grown diamond detection. Industry expert Rob Bates reports on Diamond Services detecting a single synthetic diamond in a mounted piece of jewelry; there's more welcome news from mining.com, which reports that production numbers at Alrosa are back up and the global diamond market is once again finding its balance; there's also the surprising news that there is such a thing as "too" big when it comes to diamonds as Lucara contemplates the fate of its 1,000+ carat "Lesedi La Rona"; The Wall Street Journal's Alexandra Wexler looks at Lesotho's diamond future and menswearstyle.co.uk offers some invaluable tips for buying an engagement ring.
No Small Thing: Lab Reports Lab-Grown Single-Cut Diamonds
www.jckonline.com
By Rob Bates
With lab-grown diamond detection equipment becoming increasingly sophisticated, the Diamond Services laboratory has identified multiple single-cut, synthetic stones in a piece of mounted jewelry. According to the lab's founder and managing director, Joseph Kuzi, this is the first time a single stone has been detected mounted in jewelry. The diamonds were confirmed as synthetic at the lab's Hong Kong facility using De Beers' DiamondView and Diamond Services' Mini Raman Spectrometer.
Alrosa Has Sold $2.5 Billion in Diamonds So Far This Year
www.mining.com
By Cecilia Jamasmie
Russian state-owned miner Alrosa announced it has sold $2.5 billion worth of rough and polished diamonds so far this year. Rough sales from January-June topped $2.4 billion. According to the company, the diamond market, which has been on shaky footing for some time, is back in balance. To keep up with increased demand, the company, the world's largest producer by volume, is planning to up production by 6% this year.
Rough Diamond Too Big To Sell: Unique 1,109-Carat Gem The Size Of A Tennis Ball Could Be Cut To Find Buyers After A Failed Auction
www.dailymail.co.uk
While they say there's no such thing as too big when it comes to diamonds, Lucara Diamond Corp may have to carve up the 1,109-carat "Lesedi La Rona" a year after the tennis ball-size gem failed to sell at auction. The Vancouver-headquartered company had placed a whopping reserve of $70 million on the stone, but bidders were unwilling to go higher than $61 million for the diamond – the second-largest rough stone every recovered. While a direct sale is possible, another option could be for Lucara to partner with one or more entities to cut and sell the stone. The list of possible partnerships includes Laurence Graff, Lev Leviev, Mouawad and Cora International. Although Lucara's coffers are buoyant, its stock is down 30% over late last year. With shareholders dictating terms, the company may have no choice but to let the diamond go.
Miners Dig High to Hunt for the Most Valuable Diamonds
The Wall Street Journal
By Alexandra Wexler
Lesotho is renowned for its high value diamonds. As easily accessible kimberlites run down in the world's older sources, more mines in this tiny landlocked country are slated to come on line. With quality rough from Lesotho selling for as much as 20 times the global average, the path to production is not so simple. Despite efforts to turn Lesotho into a global diamond hub, the country suffers from hard-to-reach mines, limited long-term investment due to political uncertainty and a lack of skilled workers. Still, with some of the world's largest diamonds ever found coming from the country, and a lack of viable options elsewhere, Lesotho could finally be moving into the production big leagues.
How to Pick the Perfect Engagement Ring
http://www.menswearstyle.co.uk
Thanks to De Beers, most men know an engagement ring should cost twice their monthly salary. Once they've recovered from sticker shock, however, many would-be grooms are at a loss about what to buy. Menswearstyle.co.uk offers some fail-proof tips for buying an engagement ring.
Stick to the budget. Do your research and look for a stone certified by a reputable lab – GIA tops the bill. Figure out what you are looking for before stepping foot in store. Know the 4Cs, but don't be beholden to them. If size is the most important thing, be willing to compromise on clarity or color (a diamond doesn't have to be flawless to be beautiful). Alternatively, if purity is the most important criteria, look for a smaller, more perfect stone that doesn't break the bank. Finally, the diamond is just one part of the ring. Think about the ring itself. Gold is super pricy, so consider the possibility of subbing for silver; or, if you are looking for something a little different, investigate less popular and less expensive "alternative" metals such as titanium or even tungsten. No one said you have to go the traditional route when heading down the aisle.
We hope you enjoyed this week's SPECTRUM blog post, be sure to respond in the comments or tweet us @SarineTechltd or follow us on LinkedIn.