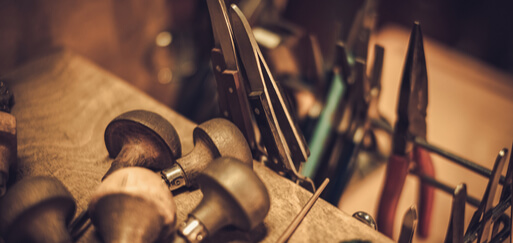 Why Custom Made Jewelry is the Hottest Trend
The last few years have seen the rise and rise of custom made jewelry, as buyers seek out individualized, personalized ways to express themselves through their jewelry choices. But what is really driving the trend toward custom made jewelry? Why are more and more jewelers turning to custom made to keep up with the times? Let's explore.
Putting 'custom' back in 'customer'
It's no secret that the world of retail is rapidly changing, from mass-market to a more personalized approach. The internet enables consumers to create and customize their own unique shopping experience, 24/7. They can select their purchase preferences, filter and browse through endless stock, while advanced Google algorithms gather browsing data to ensure the delivery of online ads targeted just to them. And according to recent Pew research, almost 80% of Americans shop online. In a digital world designed to offer up the precise goods the consumer wants, in an instant, is it any wonder that the modern customer is putting themselves at the center? And that retailers are discovering that they must provide their clientele with customized products and experiences to stay ahead?
Out: Mass market. In: Me!
Before mass production of clothing, a customer employed a dressmaker, who would 'tailor' the outfit to fit their body – and no one else's. Decades later, consumers scoured overflowing racks of department stores, searching for the right outfit. When it comes to clothing, capabilities for cheap, mass production mean we'll probably never return to the old-fashioned tailor, at least not en masse. Jewelry, however, is the perfect medium for personal customization. Custom jewelry is made of precious metals, expensive diamonds and gemstones, using intensive, skilled manual labor. This makes buying jewelry a heavy investment, both in terms of financial and emotional cost. It makes sense then to invest in a unique, personalized piece that reflects the customer's character, life story, and taste preferences. Psychology even supports the importance of personalization. More and more retailers are finding that this is the way to securing the customer's heart – and wallet.
Taking 'unique' to the next level
As recently written in an article in the fashion bible, Vogue magazine, "The coolest engaged or married women I know never dreamed of a giant, impressive solitaire; their rings are personal, unique, and unexpected." What's the key word in that sentence? 'Unexpected'. Custom jewelry is not just about reflecting the customer's unique personality. It's also about creating something that's never been done before. This leads to jewelry designers everywhere pushing the envelope, searching out ideas and inspiration that takes the art of jewelry to new places. Molecule jewelry? Check! Rock and wood jewelry? Check! 3D printed jewelry? Check! Consumers today are accustomed to a retail environment that panders to them. Why not take it a step further, and let the customer make their mark on the world with a jewelry piece that is totally unique and 'unexpected'?
It's about more than jewelry
Let's face it – we all like to think of ourselves as unique. It's part of being human. Our story is different from everyone else's, and in the 21st century, we display our personal story in the way we live, the purchases we make, the experiences we choose – and the jewelry we wear. This is not just a phenomenon of the masses. Indeed, even the world's most rich and famous seek meaning and authenticity in their jewelry purchases. Did you know that Prince William commissioned Wartski jewelers to fashion a wedding band for Kate Middleton using a particular nugget of gold from North Wales? Apparently, it was simple, elegant, well thought out and full of personal meaning for the couple.
Jewelry may also be chosen to represent a certain feeling or personality trait. In tumultuous times, one New York jeweler says that women are flocking to her dagger designs. It's a reflection of their sense of toughness, more akin to armor than jewelry. Whether representing a feeling, or celebrating an event, one thing's for certain – today, jewelry is getting more personal than ever.
The irony: Custom made goes mass market
Like all art forms, the craft of jewelry design is subject to market-driven demands, fashion trends and contemporary styles. The trend towards custom made jewelry is in part a backlash to traditional notions of fashion. Consumers increasingly want jewelry that is special and personal – different than everyone else. Yet, ironically, it seems that custom made jewelry is becoming the next mass trend. So how can consumers be unique, when everyone is trying to be 'unique'? First, it's about authenticity. Jewelry retailers who offer custom design can help their customers connect to their personal sense of self via their unique jewelry piece. Retailers who can provide this authentic connection for their customers will reap the rewards.
Second, for jewelry designers, the challenge lies in creating designs that are cutting edge, pushing the boundaries of design over and over to truly create original, never-before-seen jewelry pieces. Indeed, the trend towards custom jewelry design is driving amazingly original and groundbreaking trends in jewelry as an art form.