Tension Viewer: Reducing the Risks of Rough Diamond Sawing
By Gilad Shaham, Product Manager @ Sarine
In addition to all types of inclusions and flaws, rough diamonds have internal tension or stress that occurs naturally as part of their structure. Developed over millions of years during the diamond's unique formation process, the level and location of tension within a rough diamond varies from stone to stone.
When cutting a rough diamond into separate parts, it is critical to avoid areas of tension. If a diamond is sawed on a tension area, the release of stress may cause the diamond to shatter.
For diamond planners and manufacturers, identifying internal tension is a key factor in mitigating the financial and operational risk of rough diamond sawing. This is done with the Tension Viewer for tension mapping, a new add-on device to Sarine's DiaExpert™ and Advisor™ rough planning system.
What is Tension Mapping?
Tension mapping is advanced technology that scans a rough diamond and displays the tension inside the stone. This allows the planner to know where the tension is located in the rough diamond, and define the strength, or intensity, of the tension in the various areas. (See figures 2 and 3).
Tension mapping provides invaluable information to diamond planners, enabling them to develop sawing plans that avoid tension areas, reducing the risk of damage or destruction of the diamond.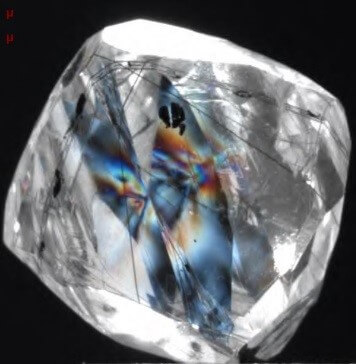 The Tension Viewer: See Better. Saw Better.
For users of Advisor™ 7.0 with DiaExpert™ rough planning systems, the new Tension Viewer hardware add-on enables scanning and tension mapping of the rough diamond early in the planning stage. Critically, it enables planning of the stone in a way that reduces risk during the sawing process.
The Tension Viewer includes an optical device that is placed on the DiaExpert™ diamond platform and connected via USB. After scanning, the diamond's tension is mapped, analyzed and displayed in dynamic video by the Advisor™ 7.0 system.
The entire tension mapping process only takes a few seconds. Yet the information it provides to diamond planners significantly reduces the risks associated with rough diamond sawing – and greatly increases the diamond planners' peace of mind.
Want to find out more about the Tension Viewer add-on for DiaExpert™ and Advisor™ 7.0?
Contact a Sarine representative near you.