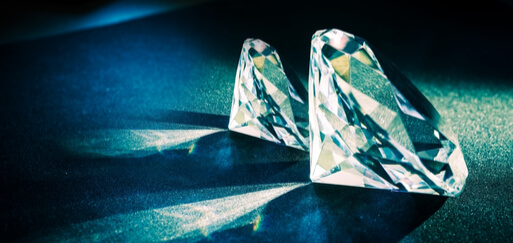 Technology: The Key to Diamond Beauty
When opposites come together, an awesome power is generated. That power is nowhere more evident than in the formation and creation of a polished diamond. A diamond, chosen with purpose, given with love, and passed on through the generations, is a perfect result of combined forces: gemology and technology, visual beauty and scientific analysis, a rock – and yet, a jewel. Let's explore some of these forces, how they work together to produce better diamonds, to grade them more accurately, and to enhance the customer's purchase journey.
Diamond Beauty is Art & Science
Diamond technologies, such as Sarine Advisor™ and DiaMension™ HD, help manufacturers to plan and produce diamonds that are optimized for their various unique characteristics. It is with science-backed analysis methodologies, such as inclusion mapping and cut & symmetry grading, that diamond producers can create more beautiful diamonds. When it comes to diamonds, beauty is no accident. Given the tools of science, such as the Sarine Profile™ diamond display system, diamond professionals can present the gemstones to potential buyers with unprecedented detail and accuracy, helping to create a unique story of the diamond that helps it to sell.
4Cs Grading: Brought to You by Technology
In the changing world of diamond retail, there's a new generation of consumers. A critical way to achieve trust is by providing potential buyers with objective, provable information about the diamond's features, grading and value. The path to non-biased, standardized methods of grading is through technology. Advanced diamond analysis technologies, based on modern approaches to optics, mechanics and imaging, allow accuracy at microscopic levels. Combined with the experience and intuition of a professional diamond grader, this level of precision takes diamond grading to new heights, boosting consumer confidence and advancing the entire industry.
Technology brings clarity to Clarity grading
Last year, a new technology was announced that may well bring the same revolutionary changes to Clarity grading as DiaMension™ did to Cut grading. Sarine Clarity™, now in the late stages of development, provides automated, objective Clarity measurement and grading. Based on comprehensive computerized mapping of the diamond's inclusions and blemishes, Sarine Clarity™ provides grading capability that is non-biased and accurate. Further development on the soon-to-be-released technologies for clarity and color grading show excellent results, far more accurate and repeatable than manual grading. Read here to find out more.
Clarity grading, enhanced by technology, and used in conjunction with the expertise of the skilled gemologist, may well be on its way to a new generation of accuracy and reliability.