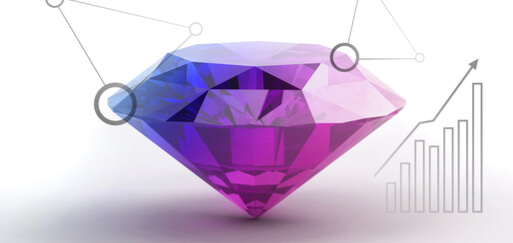 SPECTRUM – Voices from the Diamond Industry #18
Blockchain, digital diamonds, Alzheimer diagnoses, there is no end to what diamonds can do these days and it can only get better. These topics are all highlighted in this issue of SPECTRUM blog – Voices from the Diamond Industry – enjoy and be sure to subscribe to find out all the latest news and technology from the diamond industry!
Breakthrough: Diagnosing Alzheimer's with Diamonds
By Michael Franco of New Atlas
Who knew a diamond could help detect a disease? In fact, Lancaster University researchers hypothesized they could use a diamond for early detection of Alzheimer's. Via a large-scale study, they arranged a sensor embedded in a diamond, and after a few steps in the process,  analyzed hundreds of blood plasma samples, comparing those with Alzheimer's or similar diseases to healthy individuals. Read more about this innovative way of using a diamond to help detect neurodegeneration.
Israel Diamond Exchange Supporting Diamond-Backed Digital Currency
By Rob Bates of JCK
The Israel Diamond Exchange has found a new role for diamonds: backing a new digital currency. The benefit of diamond-backing is that it lowers the speculation level for investors in the current environment of piqued interest in digital currencies.
Diamonds Are The Latest Industry To Benefit From Blockchain Technology
By Pamela Ambler of Forbes
How can you best avoid conflict-diamond trade, fraudulent insurance claims, and other illegitimate diamond money flow? Oversight processes, such as the UN's seventeen-year-old Kimberley Process, can still be skirted fairly easily. Enter blockchain, otherwise known as distributed database technology. Its unified "block by block" database system allows more robust tracking across countries, facilitating more reliable monitoring for legit diamond transactions.
Try before you buy? Yes, online retailers let you
AP via Times Union
Want to do some serious research before visiting the jewelry store? Now you can even try on your favorite jewels – at home. Join the party of online retailers who allow you to try before you buy.  For example, Four Mine gives you three days to try on three engagement rings – in the comfort of your own home. The rings are mockups that give you a good enough idea about whether to move forward with the real deal. It reminds us of our Sarine Profile™ diamond display platform that lets consumers preview a true experience of the diamond – at home and in store.
Wedding Study: Half Of Aussies Don't Care Which Gender Proposes (But Diamonds Still Rule)
B&T Magazine
Ready to get down on one knee? Some long-held traditions are being challenged when popping the question, yet others remain intact: Should the man still be the one to propose? Is a diamond a must? Which type of metal for the ring? How many months' salary to spend? Should you ask for the parents' permission beforehand? This article addresses the current trends in a variety of countries in the eastern hemisphere.
We hope you enjoyed this week's SPECTRUM blog post, be sure to respond in the comments or tweet us @SarineTechltd or follow us on LinkedIn.