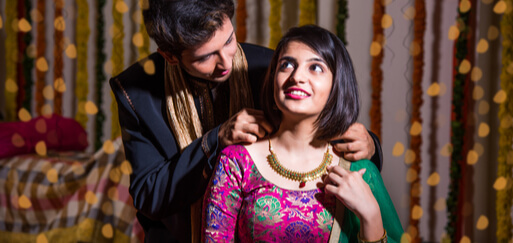 Of Diwali and Diamonds: An Indian Celebration
This week, millions across India are celebrating the traditional Diwali holiday. Diwali, the 'Festival of Lights', is India's largest, most meaningful and flamboyant event in the calendar. Coinciding with the Hindu New Year it is a 5-day period of festive celebration. It is not called the festival of lights for nothing. During Diwali, the theme of light over darkness is prevalent. Masses of decorations, lights, firecrackers, traditional dress, amazing food and, of course, dazzling gold, diamonds and jewelry are all a part of making the Diwali period magnificently colorful and celebratory.
Marketing the Magic of Diwali
For the diamond industry in India, Diwali is an important event in ways beyond the traditional. Diwali – like Christmas in the west – is a busy shopping period for Indians. The giving of gifts, purchase of festive clothing and jewelry, all provide ample opportunity for a surge in retail sales and marketing. Indeed, even the timing of Diwali, which is based on the lunar calendar and therefore shifts from year to year, can have an impact on various industries. This year, Diwali falls out slightly earlier, in mid-October and this has certainly affected the sale of diamonds. This is due to the fact that diamond manufacturing facilities in India have closed down earlier than usual for the Diwali holiday, significantly reducing the output of polished diamonds.
Diwali: The Diamond of Festivals
Ok, so Diwali is India's biggest, spectacular event of the year. But how much does it really affect sales and shopping? The answer? Significantly. Recent research reports that there has been a whopping 91% increase in online transactions in the lead up to Diwali this year. For retailers in India, the festive seasons accounts for approximately 40% of annual sales. However, if shoppers are taking to the online world in droves, 2017 has been a disappointing one for bricks-and-mortar stores. Certainly the newly implemented GST tax is being felt. Yet, on the other hand, reports show that there has been a last-minute surge in retail sales for malls and brands. And it seems that consumer electronics have emerged as the winning category this year.
Diwali and the Diamond Industry: A Reason to Sparkle
When the mood is festive, there's every reason to spend on jewelry and diamonds. Diwali, in all its amazing splendor, is definitely the festival of bling. In fact, purchasing gold for Diwali is believed by many to bring good fortune. The Diwali season always sees strong marketing and advertising of jewelry, and for jewelry designers, Diwali is the perfect time to promote fabulous statement pieces in keeping with the spirit of the festival. This includes bold, ornate jewelry designs adorned with diamonds and colored gemstones. In addition to magnificent gold and diamond encrusted jewelry, retailers also offer giveaways and promotions, which has become a trend during the Diwali season. For one Indian retailer, this included giving 75% off of jewelry, and a free silver coin with every purchase, an auspicious gift believed to bring prosperity and luck. It's all part of the tradition of giving that goes hand in hand with the Diwali experience.
When it comes to giving on Diwali, nothing beats the feel-good story from last year, when a Surat-based diamond merchant gifted his employees with over 1200 cars, 400 apartments and jewelry. As a show of appreciation for the company's staff, it was a fabulous gesture. For the Indian diamond industry, which produces 8 out of every 10 diamonds in the world, Diwali is a good reason to celebrate. In spite of this year's downturn, we look foward to the future prosperity of the diamond manufacturing industry in India, and wish all our colleagues, partners and customers a very happy Diwali season full of blessings and joy.