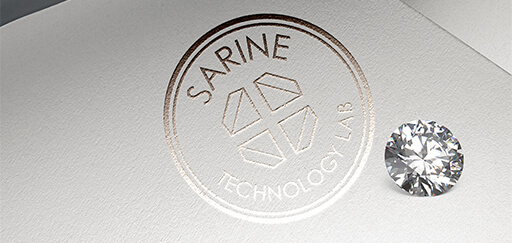 Digital, Accurate, Engaging: A New Era in Diamond Reports
Last week, Sarine Technologies announced the opening of the world's first automated diamond grading lab, the Sarine Technology Lab. In recent years, retail technologies and diamond technologies have begun to merge, and to create a new kind of diamond purchase experience. In honor of the upcoming opening of the Sarine Lab, which is a truly technology driven diamond grading lab, we'll summarize some of the ways that technology makes better diamond reports, and draws consumers to diamonds:
There's a new dawn in diamond reports, and it begins with advanced technologies. The Sarine Profile™ Report, offered by the Sarine Technology Lab, will provide the option to include technology-based 4Cs grading and diamond verification, in addition to accurate information about light performance, hearts and arrows, cut & craftsmanship and more. And it's available in a captivating digital format that adds layer upon layer of depth and beauty to the diamond story.
Provide accurate diamond reports, based on technology
The Sarine Profile™ report is based on automated technology that provides a higher level of precision in 4Cs grading than ever before. It is nothing less than a revolution in the way diamonds are graded. With the new, state-of-the-art automated clarity and color grading devices, Sarine continues its tradition of ground-breaking grading technology that sets the industry standard. Together with the DiaMension™ HD cut grading device, the Sarine Profile™ report will offer the first full, automated, technology based grading report.
Face the challenge of synthetic diamond detection
With advances in lab-grown diamonds, the issue of diamond verification is a critical one facing the industry. Sarine is meeting the challenge with the support of GGTL Laboratories, a Swiss gemmological lab and a world-leader in synthetic diamond detection. Serving elite European watchmakers and jewellers, GGTL is renowned for its cutting edge research and methodologies in the identification of synthetic diamonds and diamond grading. In collaboration with GGTL, the Sarine Profile™ report offers a diamond verification service that delivers a precise, technology-based assessment of the diamond's natural authenticity.
Give customers a digital, captivating, contemporary purchase experience
The days of dry, technical diamond reports are coming to an end. With the enhanced Sarine Profile™ report, consumers can enjoy a visually stimulating, interactive, intuitive and hands-on understanding of the diamond story, on their mobile device, in-store tablet display or home laptop. The advanced digital report can be shared via social media, making it the ideal up-to-date diamond purchase experience for the new young generation of buyers.
The Sarine Profile™ report tells the diamond story with reliable accuracy, based on technology, and is delivered via a digital experience that captivates the senses. In our tech-driven, online, connected world, this is the way to the diamond buyer's heart.