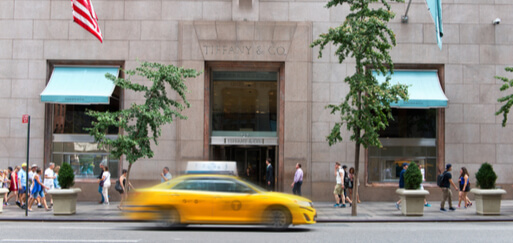 World Famous Jewelers Series Part 2: Tiffany & Co
The name Tiffany & Co. evokes thoughts of little blue boxes, glass lamp shades, and for those who know, the Super Bowl's Vince Lombardi Trophy. The store is famous for its Tiffany setting engagement rings, chain bracelets with an engraved heart charm, and delicate pendant necklaces. Where did this legacy start? Who is the man behind the Tiffany name?
Where Tiffany's Began
Charles Lewis Tiffany was born on February 15, 1812. In 1837, Charles and his friend, John B. Young, borrowed $1,000 from Charles' father and went to New York City to open a stationery store that would also sell jewelry and silverware. The company was called Tiffany & Young. In 1841, J.L. Ellis joined the store as a partner. Tiffany became known for his unique style, and he was always looking for one-of-a-kind objects to use in his jewelry. In 1851, Tiffany adopted the English silver standards. In 1853, Tiffany bought out his partners' shares and renamed the company Tiffany & Co.
With the market diminishing at the start of the Civil War, Tiffany began to make swords, medals, and other items needed for war. These pieces were used to supply the Union Army. After the war ended, Tiffany went back to making jewelry. In 1868, he incorporated his company, and shortly thereafter he opened store branches in London, Geneva, and Paris.
The Tiffany Yellow Diamond – A Famous Breakthrough
Then in 1877, Tiffany secured his place in history when he purchased the famous "Tiffany diamond". The fancy yellow diamond from the Kimberley Mine in South Africa was 287-carats as a rough – the largest yellow diamond ever found at that time – and cut down to 128.54-carats, after Tiffany's gemologist spent a year studying it to determine the best way to cut it. The diamond was displayed at the Smithsonian and worn by Audrey Hepburn to promote the film Breakfast at Tiffany's – one of only two people who have ever been known to wear the Tiffany Yellow. The famous yellow diamond has been set 4 times – in 2012, it was set in a platinum necklace and embarked on a world museum tour before returning home to the Tiffany & Co New York store.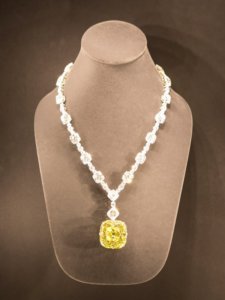 Image courtesy of http://www.1000thingsnyc.com/tiffany/
It's not the first time (nor the last) that Tiffany was to create an icon. In 1877, Tiffany designed an insignia to put on a police medal of honor. In 1909 the New York Yankees made the design famous by using it as their logo.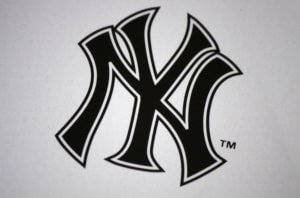 The Tiffany Setting: Redefining Diamond Rings
In 1886, Tiffany revolutionized the engagement ring by creating what is known as the Tiffany® Setting. Previously stones were set in a bezel setting. Tiffany lifted the stone off the band to highlight the brilliant-cut diamond. To this day, the Tiffany® Setting is one of the most popular engagement ring styles.
Tiffany's – The Symbol of American Luxury
Tiffany's has become a fixture in popular culture as one of America's most iconic luxury brands. It is renowned for its highly recognizable gift boxes, and its duck egg blue brand color,  which even has its own proprietary Pantone color chart number – 1837 – a nod to the company's founding year.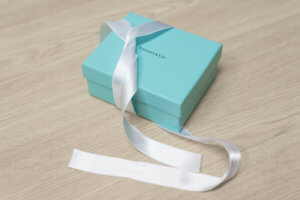 The 1961 Audrey Hepburn film Breakfast at Tiffany's, based on the 1958 Truman Capote novella, is a timeless ode to the Tiffany brand, and continues to strengthen Tiffany's iconic brand status to this day. It was produced as a Broadway musical in 1966 and again in 2013. It was revived for a new generation with the 1995 hit single "Breakfast at Tiffany's".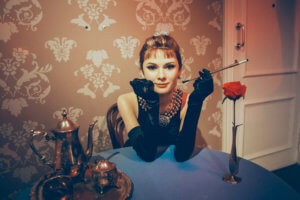 Charles Tiffany passed away in 1902. During his lifetime he created a legacy that changed the way we look at diamonds, jewelry, and indeed, the concept of luxury. After his father's passing, Louis Comfort became the first official Design Director of the company. The brilliant designs of Charles and Louis created a company with worldwide recognition.