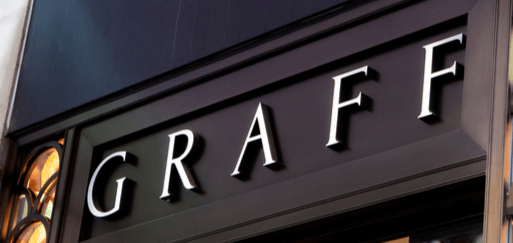 World Famous Jewelers Series Part 5: Graff
Born to be a Jeweler: The Meteoric Rise of Laurence Graff
When 15-year-old Laurence Graff began his first apprenticeship in a jewelry manufacturing warehouse in London, he never dreamed he'd be honored with the Order of the British Empire (OBE) by Queen Elizabeth in 2013. In fact, after three months working in the warehouse and running errands, the owners let him go, telling him he didn't make the grade. Clearly they were wrong, as today Laurence Graff owns a jewelry empire.
Graff was born in England in 1938 to a Romanian mother and a Russian father. After his first apprenticeship did not work out, Graff joined an older jeweler named Schindler, and opened a jewelry shop. Although Graff designed his own pieces, the economy wasn't great, and he primarily worked remodeling and repairing pieces customer brought in. When the company went bankrupt, Laurence Graff started his own store. Graff was only 17 and he took on an older man as a partner. His partner was the craftsman, and Graff worked as a smooth-talking salesman. The popular pieces were modeled after the styles of the Victoriana period, made with semi-precious stones, and were first sold for just a few pounds. When he was given a loan to purchase diamonds, Graff's prices rose, first to 100 pounds, then to 200, on to 500, and higher.
When Graff saw that the jewelry market in England was not great, he began to travel. He went to Australia and Singapore, before finding his market in the Middle East. His list of prestigious clients there includes Hassanal Bolkiah, the 29th Sultan of Brunei, and Prince Turki bin Abdul Aziz.
From Early Days to Hey Days
In 1960, Graff returned to England, founded the Graff Diamonds company, and married Anne-Marie Graff. By 1962, he had two jewelry shops, including a location in the center of London's jewelry trade, Hatton Garden.
1970 was the year of big hair, and Graff had a vision for an attention grabbing advertisement. He designed the "Hair & Jewel" advertisement to appeal to the younger generation who felt diamonds were for older matrons. When the company celebrated their 60th anniversary, they recreated this iconic picture. Some of the gems they used included a 10.47-carat Fancy Vivid Blue flawless briolette diamond and a 6.5-carat pink diamond. The model also wore the Graff Sweethearts, a pair of earrings weighing 50 carats each.
The Wittelsbach-Graff Diamond – A Breakthrough in Beauty
In 2008, Graff made the news with his purchase of the Wittelsbach Diamond. He bought the 35.52-carat diamond for £16.4 million – at that time, the highest price ever paid for a diamond at auction. In 2010, Graff explained that he had diamond cutters re-polish the stone to remove chips and improve the overall clarity. The diamond's size was reduced to 31 carats and renamed the Wittelsbach-Graff Diamond. Today the diamond is worth over $80 million.

The Wittelsbach-Graff Diamond on display at the National Museum of Natural History 
Source: Wikipedia
Graff still holds the title of chairman of Graff Diamonds and his son is the CEO. He has over 40 store locations worldwide, and his jewelry designs are some of the most sought-after pieces. Laurence Graff began his career at an impressively young age, and through determination and talent he created a diamond kingdom.