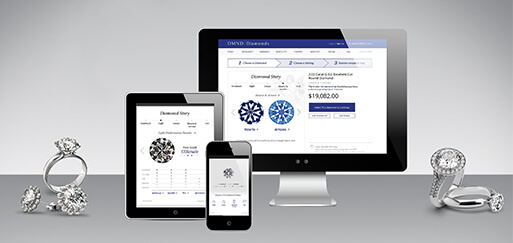 Expanding Your Inventory Through Digital Diamond Imaging
How often has a customer entered your store looking for an item that you just don't carry? Whether it's because you don't have the space, the money to invest in a large amount of inventory, or because the customer is looking for a specific item, the fact that you don't have it available will cause you to potentially lose a sale.
Digital Diamond Imaging can help diamond retailers increase their inventory, grow their business, and satisfy even the most demanding customer requests. When a customer requests an item that is not in your in-store stock, you can show them an item from your digital inventory that matches their needs. Viewed through a product such as the Sarine Profile, the images can give the customer a sense of the diamond and its features and facets similar to if they were viewing it in the store. The customer can then make a decision about the product before you order it, without involving any extra time, effort or money.
Turn a 'NO' into a 'YES'
Don't send a customer away unhappy. Keeping a virtual inventory ensures that retailers need not pay for diamonds they will later be stuck with and unable to sell. They can order only those items the customer is interested in buying, increasing the chance that the item will be purchased.
Another added benefit is increased web traffic, client engagement and net sales. The more items you have available on your website, the more chances there are of appearing in a search done by a customer looking for an item. Your business is also associated with more products, which will rank your business higher on Google web searches.
Virtual inventory can also help you keep up with the rapidly changing trends without breaking a sweat. Often, small retailers just don't have the financial means to invest in trend-based items, because all their money is tied up in the classic inventory they know will be popular for years. Unfortunately that means they often miss out on sales to the many customers that are looking for trendy items. With virtual inventory retailers can carry all the trend-based stock they want, without worrying about money, or being left with items that won't be popular in another month or two.
It's All About Performance
If you've ever wished you could get in on the trend at the very beginning, or know what items sell the best before you invest in purchasing them, virtual inventory is the answer to helping you solve that question. It can help you keep track of stock, and give you a good idea of what items sell the best, what are the most popular and requested, and offer you ideas of which items best to spend your money on. With virtual inventory you can cater to any customer need without breaking your budget.