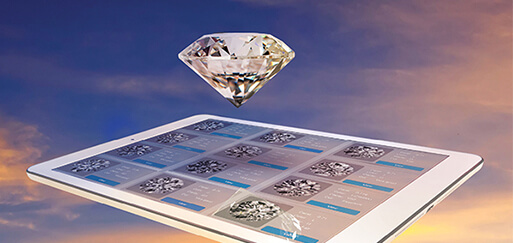 Diamond Imagery – The Full View
Retail is a dynamic business and retailers are always looking for newer and better ways to build brand loyalty, increase their customer base and make sales without a heavy financial burden and without spending a lot of time and effort.
The Sarine Profile is a quick and effective method for fulfilling all these needs simply and easily, enhancing your business's efficiency and promoting smoother diamond sales. The Sarine Profile is a complete diamond story package that includes all aspects of a diamond, in a visual, interactive format, from its color, quality, cut and brilliance, to its dimensions, inclusions and more.  It provides the customer with a tangible and expert way to view diamonds in high-depth detail as an expert in the diamond industry would, by viewing from a range of virtual settings, but without the technical expertise needed to complete such a difficult task. 
The Sarine Profile diamond imagery component is based
on the Sarine Loupe, and the diamond images are stored online. Customers are able to use the Sarine Profile to view the diamond as if they were actually holding it in their hand, whether or not the diamond is in your store, in the comfort of their own home, or even on the go on their mobile device.
Easily embedded into a retail website via a digital link, the Sarine Profile can be used as an in-store sales tool, and can also be offered to customers prior to coming into your retail outlet, through your website, in order to draw them in and provide them with an option generally not available from a large portion of retailers.
The Profile works as a magnifier of the diamond story, providing a visual display of outstanding precision. The customer can then manually control the view of the diamond by rotating and tilting the picture vertically and horizontally, in order to obtain the most in-depth and well-rounded view of the entire stone, including the girdle, all its facets and imperfections, from every possible angle.
There are multiple ways to view the stone, through Diamond Imaging, including Real View, Top View, Inscription View, which allows customers to view the diamond's unique ID number, engraved on the stone's surface in tiny characters that are unreadable by the naked eye, and 3D View, which provides the most in-depth and fully detailed view of the diamond in full 3D rotating form. With this feature, the customer not only gets a view of the diamond from every angle, but a bird's eye view, as if holding it in their hand.
There is no simpler method for providing the customer with all the necessary tools to become fully informed and invested in their diamond's story. A new technology for a new generation of customers, the Sarine Profile Diamond Imagery can help bring your business into the new age.