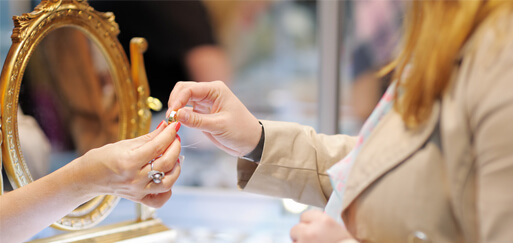 Diamonds Are Forever? A Glimpse of the Second-Hand Diamond Market
The slogan "A Diamond is Forever", has become pervasive in the diamond industry. Young girls dream about the day they will find their prince charming, receive their diamond, and begin their forever. Young men, searching for the perfect way to express their love, head straight for the diamond retailers. But in today's day and age, more often than not, a diamond doesn't mean forever. For many reasons, people feel the need to part with their diamond. It may be due to the dissolution of a marriage, financial difficulties, death, or even the desire to upgrade to a larger stone. Regardless, these diamonds now need a new place to call home.
This overabundance of diamonds making their way back into the industry has come to form a lucrative second-hand diamond business that is rapidly growing throughout the US. For many years, pawnbrokers and diamond retailers would buy back jewelry set with smaller stones, and sell them to dealers who purchase "melee" stones for manufacturing and creating new jewelry. These stone would then be re-cut and re-set into new settings, and be sold off as new jewelry. However, today, the necessity for re-purposing used diamonds into new settings is no longer as necessary. Consumer dissatisfaction with the low buy back rate of used diamonds, as well as dissatisfaction among purchasers over the high retail pricing of stones, have led to the formation of many online websites catering to those wishing to buy or sell used pieces. Aside from general sites such as Ebay or Craigslist, site specifically for used jewelry have been formed, such as IdoNowIDont.com, which offers the largest supply of used engagement rings and loose diamonds on the web, and provides GIA certification for each stone sold prior to purchase, so consumers know what is being advertised is, in fact, what they are receiving. Other sites, such as HaveYouSeenTheRing.com or Worthy.com advertise up to 80% discount prices on ring purchases by connecting consumers directly with sellers.
IdoNowIDont's sales show the value of the second-hand diamond market. Their sales figures are up 300% from 2014 to 2015, and in just a few years, they are already a multi-million dollar business, and set to become a major player in the US jewelry market within the next few years.
Even DeBeers, creator of the "A Diamond is Forever" slogan, has realized the potential value in the second-hand market. Realizing the diamond resale and valuation problems faced by many consumers, and wishing to continue the idea of the lasting value of diamonds, DeBeers officially entered the second-hand diamond business and launched the International Institute of Diamond Valuation (IIDV).
In addition, in an era where people try to be more environmentally friendly and green, the value of buying a used diamond means less environmentally harmful diamond mining is necessary, so they can feel good about buying the used stone, and receive a better price. The benefits of the second-hand diamond market are clear. Sellers receive a better fee for their no-longer needed stone, consumers get a discount on a beautiful diamond, and the environment stays in tact just that little bit longer. A win-win for everyone.