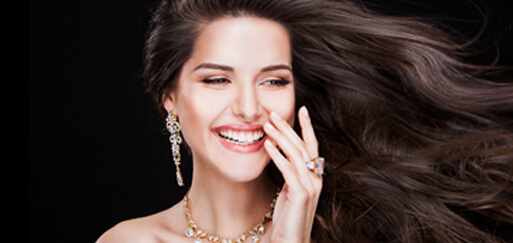 SPECTRUM – Voices From the Diamond Industry #02
Want to know what people around the world are saying about diamonds and diamond technology. Look no further than our SPECTRUM blog. This week we feature the inspirational Kara Ross, Founder of Diamonds Unleashed being interviewed on Spiritof608.com; Bryan Boyne from Whiteflash.com on the history of hearts and arrows in diamonds; Trendhunter.com on the weird but strangely beautiful diamond encrusted rotten fruit; and more… Enjoy!
Kara Ross On Creating Diamonds Unleashed, Empowering Women To Buy Their Own Bling + Teaching Girls To Code
Spiritof608.com
Empowering women to buy their own bling and teaching them to code, what's not to LOVE? Check out this podcast with Kara Ross, where she asks the interviewer, longtime fashion journalist Lorraine Sanders, "Have you ever bought yourself a diamond?" Sanders was stumped (which is not something that apparently happens often). Kara Ross is fascinating and inspirational and this is a great interview with her. Enjoy!
Benefits of Hearts and Arrows Diamonds
Whiteflash.com, By Bryan Boyne
We recently wrote a blog post on what the Hearts and Arrows in Diamonds means. This piece by Boyne is much more comprehensive and really is a great resource for understanding the hearts and arrows history. Our new Sarine Profile solution can really help show the story behind every diamond and bring those hearts or arrows to life, check it out here.
Are Diamond Engagement Rings Totally Over?
InStyle Magazine – By: Xo Jane/Kathleen Braine, Instyle.com
InStyle are fast becoming one of our "go-to" resources for great content on diamonds, but not sure we agree with sentiment behind the question being asked in this piece, "Are Diamond Engagement Rings Over?" Fortunately for us, it would appear that diamond engagement rings are still part of the story and for some just the beginning of their couple journey.
Trend Hunter Art & Design – Trendhunter.com
It's another case of "whatever next," for this piece by Trendhunter, and their Jewel-encrusted rotten fruits which strangely look absolutely stunning. Not sure what you would do with one, mind.
Daily Telegraph Luxury, Telegraph.co.uk
From Naomie Harris in Messika to Kate Bosworth's Dolce & Gabbana crown, check out the Telegraph.co.uk's highlight of the standout jewels from the technology-themed Met Gala. Beautiful!
Man-Made Diamonds Gaining Acceptance, But Industry Wary
The Columbus Dispatch, Dispatch.com
Gaining discussion in the industry, the imitation-diamond industry has existed for years, but until recently the man-made gems tended to be fairly rough quality stones with discolorations and visible flaws. Now the technology has evolved to the point where even the experts need special equipment to tell the difference, and the gems are also growing in popularity. See what this dispatch.com article says about them.
DIAMOND OF THE WEEK:
Check out the fine detail in this stunning in this yellow #diamond engagement ring! https://t.co/6jOoDhpgSB pic.twitter.com/uIAynoo3KC
— Hyde Park Design (@HydeParkDesign) June 3, 2016
If you would like to feature a piece in our blog, email us to marketing@sarine.com
We hope you enjoyed this week's SPECTRUM blog post, be sure to respond in the comments or tweet us @SarineTechltd or follow us on LinkedIn.
Inclusion of links to third-party websites does not constitute or imply endorsement.