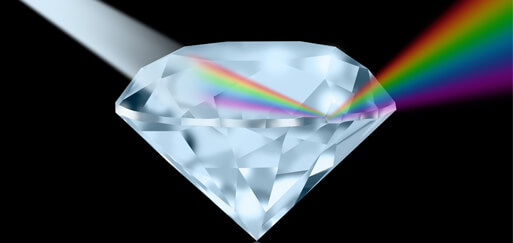 SPECTRUM – Voices from the Diamond Industry #03
This week's diamond industry news, explored in the 3rd edition of our new SPECTRUM Blog. We feature an article by Jen King and Luxurydaily.com about the lack of synchronization between consumer behaviour and current retail technology. It paints a grim picture for retailers, but fortunately there are solutions. We also feature Ella Morton [Atlasobscura.com] on the hidden messages in 17th Century diamonds; Matthew Wright [UMBrightnow.com] on how diamonds and nanotechnology could be changing our future; A very insightful piece by Rachelle Bergstein on why people still buy diamonds; And finally our diamond of the week, or should that be our uncut diamond of the week, which unfortunately did not sell this week at Sotheby's, the Lucara Diamond and everyone is talking about it. Enjoy!
Current retail technology and consumer behavior not yet in sync: report
By Jen King, Luxurydaily.com
Wow how timely. According to this article in Luxurydaily.com and based on research we have also recently conducted, it would appear that current retail technology and consumer behaviour are really not yet in sync. You may have missed it but we have just produced a 4-part series around the diamond buying journey, here, which was published in the JCK Content Studio. As well as this amazing infographic about the Millennial diamond shopper. All of this, the above-mentioned article by Luxurydaily, our own research, our look into the diamond buying journey and the millennial shopping dilemma show that Jewelry retailers are facing unprecedented challenges. It's time to step up to the plate and look at ways you can connect better with your customers and get the technologies you need to help you give your customers the value they seek. A good place to start is with Sarine Profile.
The Secret Messages Hiding Inside 17th Century Engagement Rings
By Ella Morton, Atlasobscura.com
Apart from being beautiful, diamonds really are absolutely fascinating. From the way they are mined, to what makes them shine and sparkle, there is a wealth of information, history, controversy and beauty behind every diamond story. So it is with absolute fascination that we stumbled across this atlasobscura.com (aptly named) feature by Ella Morton, "The Secret Messages Hiding Inside 17th Century Engagement Rings." As Morton says, the messages make the modern diamond ring look rather boring.
Diamond Traceability Extended up to Jewellery by Belgo-Swiss Diamantaire with Hauthentic
BusinessWire.com
Now thanks to Antwerp-born diamantaire Raoul Beck and his new jewelry brand Hauthentic, every jewel will reveal the individual history of their own central diamond. The traceability of diamonds has only ever been guaranteed by the Kimberley Process, for rough diamonds only. But now with Hauthentic this will also be extended to cut diamonds set in jewellery. Beck will document all steps and stops travelled by each of their diamonds. From the rough gemstone in its country of origin, through the craftsmen who cut and polished it, and until its setting into jewellery, this distinctive journey is accurately recounted in the Diamond Passport. Read more about the passport and the new process Beck will take to authenticate the diamonds in their jewelry.
Tiny Diamonds Could Enable Huge Advances in Nanotechnology
By Matthew Wright, UMDrightnow.com
The science behind diamonds and what you can do with them is still developing and evolving. Take for example this recently published article on UMDrightnow.com. It talks about how nanomaterials have the potential to help us improve many next-generation technologies. They promise to speed up computer chips, increase the resolution of medical imaging devices and make electronics more energy efficient. But imbuing nanomaterials with the right properties can be time consuming and costly. And now a new, quick and inexpensive method for constructing diamond-based hybrid nanomaterials in bulk could launch the field from research to applications.
Beyond De Beers: Will The Diamond Really Be Forever?
By Rachelle Bergstein, Signature-reads.com
With many years of industry experience and research for her book, "Brilliance and Fire: A Biography of Diamonds," many people have asked author Rachelle Bergstein why people are still buying diamonds. She thinks it's a reasonable question and goes on to talk about the history, industry, and – more often than not – controversy surrounding diamonds, and postulates on why she thinks people still want them and love them. This makes a fascinating and insightful read.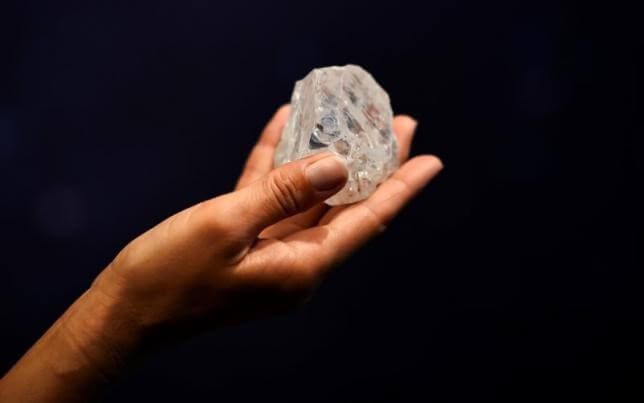 Picture as shown in this article on Reuters.com
DIAMOND OF THE WEEK: Everyone is talking about the Lucara Diamond which failed to sell this week at a Sotheby's auction. It is said to be the biggest uncut diamond to be found in over a century. You can read more about it here:
https://t.co/o5WHnXYsCD#Lucara #diamonds #Karowe #mine in #Botswana produces some of the world's largest #gemstones pic.twitter.com/72AiaP32kd

— London D&E (@LondonDandE) June 29, 2016
We hope you enjoyed this week's SPECTRUM blog post, be sure to respond in the comments or tweet us @SarineTechltd or follow us on LinkedIn.
Inclusion of links to third-party websites does not constitute or imply endorsement.