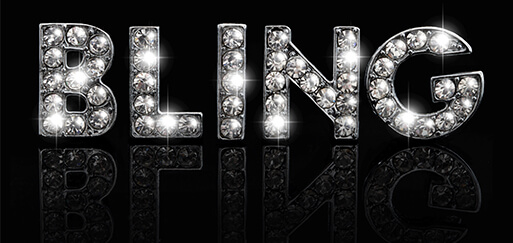 Diamond Jewelry: A Signature of the Hip Hop Community
Diamond jewelry has become almost synonymous with the Hip Hop community. If there is one particular style associated with Hip Hop moguls and music, it's bling. Bling, or bling-bling as it is better known, is slang for the largest, most outlandish and sparkly diamond jewelry and gold pieces worn by rappers and musicians of the genre.
Diamond Jewelry Excess
The Hip Hop and diamond connection began in the late 80s, well before Hip Hop was the international phenomenon it is today. Underground Hip Hop star Biz Markie visited jeweler Jacob Arabo looking for something he could turn into a signature piece, and which would stand out to the audience even those far away from the stage. Markie was looking not only for something to catch the eye, and to distinguish him from other emerging rappers, but also to serve as a sort of costume to make the audience remember him. Arabo took on the challenge and created a four fingered diamond ring with the word "Biz" encrusted on it. The ring was a phenomenal success. It paved the way for other members of the Hip Hop community to set their signature style and make their mark on the genre.
Bling: A Bold Signature
While diamond jewelry and bling marked an original style, they also served many other purposes. The rise of the Hip Hop culture represented the new rise of the African American man to a stature of affluence and respect. Many rappers used it to show their affiliation and loyalty to their label, while others simply wanted to create a signature style that would make them memorable and promote their music. Others used flamboyant diamond jewelry to appear intimidating, in a society where the rougher you were, the more your music was coveted.
Many Hip Hop artists requested outlandish diamond jewelry pieces just to stand out, like fashion grills – fake diamond encrusted gold bars that would cover teeth in order to make the wearer appear more dangerous, or diamond encrusted eye patches, like rapper Slick Rick had. Others still, wore crazy huge versions of cartoon characters such as Garfield and Bart Simpson. When it came to diamonds in the Hip Hop community, no suggestion was too outrageous or off-limits.
Diamonds Define Hip Hop
Contrary to the initial origins of Hip Hop, this penchant for large diamond jewelry has become the most known aspect of the genre. It has become the cornerstone of what sets Hip Hop apart from other music industry genres. Rappers have even been able to turn the Hip Hop affiliation with diamonds into a lucrative side business. Rapper Nas has partnered with watch dealer Steven Brown to launch the line Ownly One. It has helped turn Hip Hop into an entire subculture that has maintained generational popularity. So, is the diamond really forever? In the Hip Hop community it certainly seems so.