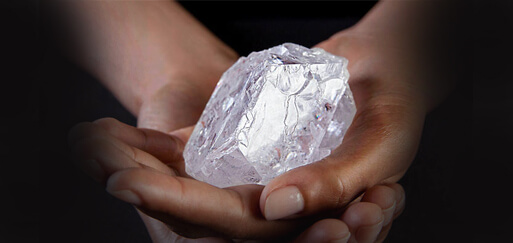 SPECTRUM -Voices from the Diamond Industry #04
In this week's SPECTRUM blog, focusing on diamond trends and news from the industry, we are delighted to share with you a special look at how to use Pinterest for your jewelry brand from Southernjewelrynews.com; A shining piece in the Economist.com on the three fronts challenging the diamond industry – new technology, new consumer behavior and changes to the financial industry; A look at how we shop now from Josh Engroff [mediapost.com]; and Bloomberg.com showing us how to cut a 404-carat diamond. All this, more diamond trends, and extra news for you to enjoy!
Social Advertising Campaigns – Part 6
www.Southernjewelrynews.com
By Brad Simon
Pinterest, what is it, how does it work and how is it relevant to my jewelry brand? These are all questions discussed in this noteworthy article, which is part 6 of a series called, "Social Advertising Campaigns." At just over 100 million active users, Pinterest is the smallest of the top 5 Social Networks. When Pinterest started 5 years ago it quickly became the fast growing social network ever. Although that growth plateaued a couple of years ago, it remains an important network for jewelers to consider having in their marketing mix, mainly because 85% of Pinterest users are female and fashion remains one of the top viewed topics on the network.
www.economist.com
Like all markets today, the diamond industry is facing challenges on three fronts – new technology, new consumer behavior and changes to the financial industry. Using the journey of what is fast becoming an infamous diamond – the Lesedi La Rona, a rough diamond which failed sell in London a few weeks ago – as an example. This article talks about these three fronts and how they are affecting the diamond buying industry. The title and the over-arching message of the piece is that diamonds continue to shine on, which is a good thing for all of us.
Gemfields uncovers rubies' emotional significance through intimate vignettes
www.luxurydaily.com
By Sarah Jones
We are strong believers of the story behind every diamond, so it is no wonder we love this piece about the emotional significance of rubies as told by Sarah Jones in Luxurydaily.com. These "Ruby Inspired Stories" explore rubies' believed symbolism of passion, protection and prosperity through tales of a single moment in three women's lives. Rather than focusing on the physical appeal of the rubies pictured, Gemfields, the colored-gemstone miners, instead highlights their emotional appeal, as the stones bring back memories or help to celebrate a milestone.
www.mediapost.com
By Josh Engroff
This is a fascinating look at the way consumers shop and how mobile and the use of artificial intelligence is shaping ecommerce now and well into the future. Surprsingly there are also strong trends for change amongst luxury brands, and Engroff discusses this in some detail using the example set by Sprint, the mobile-only luxury retail company started by Alan and David Tisch in NYC. If you want to be part of the future of mobile and e-commerce, this article is a must-read.
How to Cut a 404-Carat Diamond
www.bloomberg.com
James Tarmy Reporting
Ever wondered how to cut a really large diamond, how many diamonds it yields, how much the finished diamonds are worth etc… Wonder no more, thanks to Bloomberg's James Tarmy and this very informative piece, you can now watch how to cut a 404-Carat Diamond and get the answers to all the above questionns. Chances are though, that one or more of Sarine's technologies will be used in the process of cutting, grading and preparing this diamond. Enjoy!.
DIAMOND OF THE WEEK: Why show just one diamond when you can show 296 #diamonds? Thanks to @reenaahluwalia who Tweeted this video showing the Natural History Museum's @NHM_london amazing collection of 296 natural color diamonds.
Thanks, Alan Hart & @NHM_London for a privileged, private viewing of #AuroraCollection, 296 natural color #diamonds! pic.twitter.com/XPP3oJie30

— Reena Ahluwalia (@reenaahluwalia) July 5, 2016
We hope you enjoyed this week's diamond trends as featured in our SPECTRUM blog post. Be sure to respond in the comments or tweet us @SarineTechltd or follow us on LinkedIn.
Inclusion of links to third-party websites does not constitute or imply endorsement.