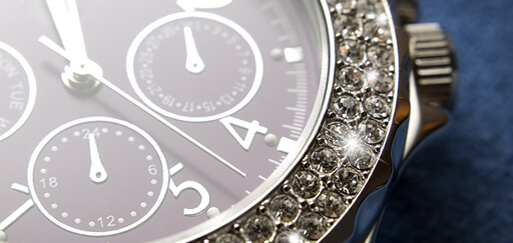 Diamond Fashion: Make a Statement They'll Never Forget
Diamonds have long been a part of the glittering world of fashion. Popular diamond fashion accessories include the diamond ring, bracelet, necklace, and even the diamond tiara. But the times are changing, together with our attitudes to technology and fashion. While the pearl necklace says "demure" and "modest", the diamond says "bold" and "brilliant", reflecting the modern independent and empowered lifestyle.
Diamond Fashion: Make it Sparkle
In large part, trends are set by celebrities, and celebrities just love to make statements. And nothing makes a statement more than diamond fashion. Who could forget Gloria Stuart at the 1998 oscars, wearing the "Heart of the Ocean" diamond and sapphire necklace worth $20 million, from the movie Titanic? And who can resist the gossip of the latest celebrity diamond engagement ring? Or the brash, flashy diamond-encrusted grills, the mouthpiece that has become a celebrity rapper favorite, even if it hasn't yet made its foray into mainstream fashion trends…
Diamonds Make Unlikely Accessories
Sure, you would expect to see diamonds in various pieces of jewelry, but diamond fashion goes way beyond jewelry.  Other diamond fashion accessories are popping up all over the place. Cartier, Lugano and Bulgari, among other brands, are now making diamond encrusted sunglasses. In fact, singer Celine Dion wore diamond encrusted Ray-Bans to the 1999 Academy Awards. And speaking of the Academy Awards, there is no place better to debut a pair of "Million Dollar Sandals". The shoes, created by shoe designer Stuart Weitzman in 2002, were dotted with 464 diamonds, and worn by Oscar nominee and Mullholland Drive Star Laura Harring.
Another pair of daring shoes that highlight diamonds in fashion were the one-of-a-kind two million dollar diamond shoes America's Got Talent host Nick Cannon wore for the 2014 season 9 finale show. The Tom Ford shoes, which contained 14,000 full cut, round white diamonds totaling 340 carats, took nearly a year to create.
As an homage to his retirement, LA Lakers star Kobe Bryant released the "24 Collection", which includes a purple diamond cashmere hat worth over $24,000. The hat contains five yellow diamonds above Bryant's name and number that represent his five NBA championships.
With the advance of personal technology, and even wearable tech, diamond fashion is breaking new boundaries. How about a bespoke diamond-encrusted luxe iPhone 7? Gold and diamond HP laptop? Or diamond encrusted tires for your car?
Diamonds Make the World's Most Expensive Lingerie
Perhaps the most iconic use of diamonds in fashion is the Victoria's Secret bra. Throughout the years, Victoria's Secret has wowed audiences who watch their runway shows with their unique themed diamond bras. The 2015 diamond bra, worn by model Lily Aldridge, took 685 hours to make, contained 375 carats of diamonds and cost two million dollars. The matching underwear held 126 diamonds. Strangely enough, that bra isn't the most expensive bra Victoria's Secret has featured. That honor goes to the bra Gisele Bundchen modeled in 2000, which was worth $15 million and earned a place in the Guinness Book of World Records for the most expensive item of lingerie, ever.
Needless to say, diamonds have a life well beyond the marriage proposal, with their use in many industries, including scientific research, and as an icon of the hip hop community. But no one can deny that diamonds have long been a way to catch attention, providing the fashion industry with an arresting new twist. Check our Rihanna's recent cover on W magazine, as she ventured into wearing face jewelry. As the fashion industry finds new and original ways to incorporate the beauty of diamonds, it's safe to say, the evolution of diamonds continues apace.