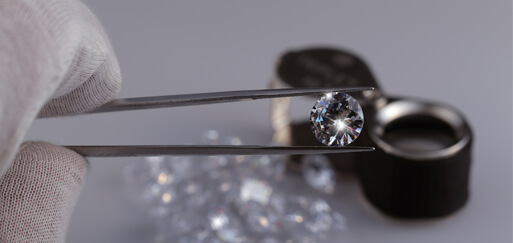 SPECTRUM – Voices from the Diamond Industry #06
August has not seen a slowing down of interesting diamond news and industry trends. In fact, this is one of our most fascinating SPECTRUM diamond news blogs to-date, with pieces from; Katerina Pitzner [Huffingtonpost.com] on the undercover etiquette of the diamond trade; Christina Binkley [WSJ.com] discussing they history and upcoming changes to NYC department stores; Alina Simone [PRI.org] on man-made diamonds; Alec for 3Ders.org looking at De Beers and how 3D printers fit into the diamond manufacturing process and industry; JR Thorpe [Bustle.com] intriguing us with 5 of the strangest jewelry curse stories; And finally, our Diamond of the Week is dedicated to Rhianna's 2,000 diamonds she wore for the September cover of W Magazine as tweeted by @Joyjoyajewelry.
Undercover Etiquette of The Diamond Trade
By Katerina Pitzner, Huffingtonpost.com @Pitznerdiamond
You may think you are simply reading a regular blog post in the Huffingtonpost, but this enthralling piece by Katerina Pitzner delves into the secret and oftentimes mystifying world of diamond dealing. Told from her unique perspective as a rare female diamond dealer, an intriguing, suspense-filled story unfolds. There will be no spoiler alerts in this teaser, but if you were ever curious about the inner workings of the diamond dealing trade, then we recommend you read this piece. As Pitzner says, "In the opaque world of diamond dealing even an elevator encounter has its unwritten rules."
By Christina Binkley, WSJ.com
The way we shop has been changing drastically over the last twenty odd years, ever since the advent of the internet and home delivery. But what does that mean for established retail and luxury brands? Christina Binkley discusses this question in her piece on "Store Wars" recently published in The Wall Street Journal. She says, "According to the model now emerging in New York, the future of department stores is actually an anti-department store. Most are doing away with the units that once segregated designers and price points in favor of open-floor plans that give customers a seamless experience and more closely match the way they live." Binkley gives a thorough recount of the history of New York department stores in light of the news of stiff competition from a couple of out-of-towners: Neiman Marcus and Nordstrom.
Diamond Labs Say Theirs are Forever Too — Even If They Were Made Yesterday
By Alina Simone, PRI.org
Without going into arguments for or against lab-grown diamonds, Alina Simone presents an interesting discussion on natural and man-made diamonds. Simone says, "I'm here to check out the latest: A diamond mine the size of a passenger van that can be controlled with an iPhone." Interviewing Martin Roscheisen, the CEO and founder of the Diamond Foundry, the man-made diamond industry's hottest new start-up, Simone asks, "And how long does it take to make a batch?" "About two weeks," he says. "Compare that to the 1 billion-plus years for the Earth to produce a diamond, and you get why the traditional diamond industry is up in arms," postulates Simone. This is an interesting read of an industry discussion that still has a long way to go.
Diamond Specialist De Beers Adopts Stratasys 3D Printers for Diamond Testing Equipment
By Alec, 3ders.org
While the industry is still wrapping its head around lab-grown diamonds, news has hit that Diamond specialist De Beers has adopted Stratasys 3D printers for diamond testing equipment. How, what? According to this piece in 3Ders, at the De Beers Technologies UK research and development facility in Maidenhead, Berkshire, engineers develop and manufacture machinery for, among others, diamond verification and grading, diamond sorting and treatment, as well as synthetic diamond detection. The speeds and sheer quantity of diamonds processed requires immensely advanced equipment that operates with unparalleled efficiency, flexibility and consistency. That's where 3D printing comes in. "Until recently we did all of our 3D printing through a bureau service," explains Technical Manager Trevor Poulter. "However, we soon discovered that the amount of printing we were doing would soon justify buying a 3D printer of our own."
The 5 Strangest Jewelry Curse Stories, Because Diamonds Aren't Always A Girl's Best Friend
By JR Thorpe, Bustle.com
It would be a very boring SPECTRUM blog without some of the weird and wonderful stories in the industry. None more so than this piece by JR Thorpe, published in Bustle.com on the 5 strangest jewelry curse stories. Go on, admit it, you love a bit of mystery and intrigue as much as the next person, but curses… shiver! So, as Thorpe asks, "What does it take for a jewelry artefact, whether it be a single stone or a hoard of gold, to be declared "cursed"?" It would appear that the main ingredient is a highly gullible public, or shall we say one with an active imagination and successive owners who are willing to carry on the legend, as Thorpe says, "Even if they've escaped with all their limbs." Fascinating!
This week's Diamond of the Week is dedicated to Rhianna's 2,000 diamonds she wore for the September cover of W Magazine, Read about it from our friends @Joyjoyajewelry
Jealous. The Stories Behind the 2,000 #Diamonds Rihanna Wore on W's September Cover https://t.co/SdO1xZqv9B #style pic.twitter.com/eY5l2yUuvl

— Joy Joya (@JoyJoyaJewelry) August 5, 2016
We hope you enjoyed this week's SPECTRUM blog post, be sure to respond in the comments or tweet us @SarineTechltd or follow us on LinkedIn.
Inclusion of links to third-party websites does not constitute or imply endorsement.