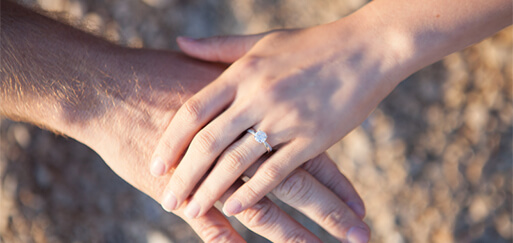 SPECTRUM – Voices from the Diamond Industry #09
In this edition of SPECTRUM diamond news blog, we feature Enterpriseinnovation.com with news of the first P2P diamond marketplace; Nelson Williams for Siliconangle.com on tracking diamonds with Blockchain technology; Product de-positioning for Jewelry retailers from Tim Matthews [business2community.com];  Rachelle Bergstein setting the record straight on Millennials and diamonds for Forbes.com; and instead of our diamond of the week, we feature Purewow.com's list of 7 non-traditional engagement ring stones that are setting trends big time.
First P2P diamond marketplace launched in Hong Kong
www.enterpriseinnovation.net
By Eden Estopace
Probably long overdue, Eden Estopace reports that the first online peer-to-peer (P2P) global diamond marketplace has now launched in Hong Kong. Backed by entrepreneur Shih Wing-Ching, the Hong Kong Accredited Diamond Exchange (HKADE) has opened the gate for the global public to trade in a resale market. For sure people look for ways to make diamonds an investment option but until now it has remained a privilege for gem experts and insiders. Perhaps not anymore, however it is still early days and we will be watching this space.
The Art Of Tracking Diamonds Through The Blockchain | #Ibmedge
www.siliconangle.com
By Nelson Williams
Bitcoin's other half, the blockchain is making waves in the news. What is a blockchain you ask? It is a sort of distributed recording device, a ledger that is held on many computers so that it cannot easily be forged or altered. This blockchain ledger is a powerful way to bring transparency and trust to any number of industries. Now companies are using this technology to apply it to the diamond trade. This piece talks about Leanne Kemp, founder and CEO of London-based startup Everledger, which provides an immutable ledger for diamond identification and transaction verification. Blockchain is going to disrupt the diamond industry. Check out our recent blog post on the subject.
How De-positioning Works: Dissecting a Shane Co. Radio Ad
www.business2community.com
By Tim Matthews
This is a fascinating piece by Tim Matthews about product positioning or de-positioning and how it works using Jewelry retailers as an example. One of the reasons we think it is so important for all Jewelry retailers to read this piece is because our Sarine Profile technology can give you that positioning edge by really showing your customers and competitors how your diamonds sparkle. Only with Sarine Profile can you properly catalog your diamond inventory and show each diamond's unique, true story.
Millennials Buy Diamonds. So Why Does Everyone Think That They Don't?
www.forbes.com
By Rachelle Bergstein
Thank goodness Rachelle Bergstein has publicly said what we have been wondering as well. Given the recent rap that Millennials have been getting over diamonds, trends are showing that they are indeed spending money on none other than, diamonds. Whew.
7 Non-Traditional Engagement Ring Stones That Are Trending Big Time
www.purewow.com
We love it when people think outside the box; in this case it's a matter of thinking outside the little black velvet box. Think beyond the cushion-cut diamond, touts this Purewow post showing us 7 non-traditional engagement ring stones that are now trending.
We hope you enjoyed this week's SPECTRUM blog post, be sure to respond in the comments or tweet us @SarineTechltd or follow us on LinkedIn.