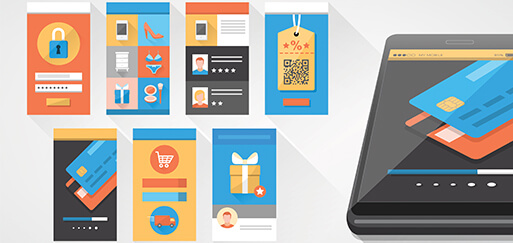 Simple Apps for Jewelers: Increase Traffic and Customer Connection
Connecting with the technology driven millennial generation can be challenging. In our online, interconnected world, traditional marketing campaigns are old hat. But there are many innovative business apps for jewelers that are simple to use, and sometimes even free. Used wisely, these can help increase consumer interaction between jewelers and their customers, enabling both parties to speak the same language that leads to successful sales.
Build Content
According to a survey by Nielsen, consumers are five times more dependent on content today than they were only five years ago. Providing them with the right content to pique their interest is essential. Spot.IM is a business app that turns your website into its own self contained social network, dubbed a "Spot". With Spot.IM, businesses need no longer rely on outside social apps to drive engagement. By creating a social community within your own site, you can drive traffic to your site, control your own content, and interact with your community, all in one place. Eliminating the need for customers to leave your site to engage also reduces bounce rate and increases the likelihood of a purchase. Your new social network within your site is the perfect place to interact and offer additional content, and also to post sales, coupons and promotions that will keep customers interested.
Create a wall of the most shared and trending content on the web with AddShoppers Trending Wall. The app puts the wall anywhere on your site, which automatically drives traffic to your site anytime consumers look for one of those topics.
Collect Content
According to Forbes, consumers don't find staged images appealing. Consumers respond more strongly to real photos, taken by other consumers. In fact, they are 92% more likely to buy a product when accompanied by a real-life picture of a person using the product. Several apps have cashed in on this trend to helps businesses make their product more appealing to the public. Olapic, Piquora and ReadyPulse collect and curate consumer photos from around the web, request permission for use from the individual consumers and populate them on the appropriate websites. How could this benefit diamond and jewelry retailers? Well, for example, a real-life photo of Joe proposing to Kim with a diamond ring on the beach at sunset could be used the create an original marketing campaign. The apps can also turn the pictures into shoppable ads on Instagram, and the pictures can be used on a retailer's website, in-store marketing content, printed marketing materials and more. In addition to the fact that these images are free, they have the added bonus of engaging and personalizing ordinary people. Often, these people are thrilled for the chance to be "models" on a brand's website, and share extensively about it over social media, generating even more buzz for the retailer. It's a win-win situation for both the consumer and the retailer.
Recommend Content
If 92% of consumers are more likely to buy a product when used by a real person, even more are likely to buy a product recommended by a friend, family member, or peer. In a recent study, 96 out of 100 respondents said that they take advice from those they know when it comes to finding a reliable mechanic, a good travel agent, an enjoyable book, a great sweater and more. In other words, people tend to trust the judgment of those who have had an experience before. For this reason, business apps such as Myreks and Yuno have created an online recommendation service that not only helps consumers but involves retailers in the journey, with an affiliate of partners. Here's how it works. When Consumer #1 recommends a product from retailer x, and Consumer #2 purchases that product based on the recommendation, Consumer #1 is rewarded for being an influencer and receives either money back on their purchase or spending coins, which can then be used to purchase items from other retailers within the network. This creates a partnership between all the participating retailers whereby they support and recommend each other, generating more business for each.
Connecting with your audience is essential, but it doesn't have to be difficult. The above apps for jewelers, and many others, can help grow your business, engage your customers and increase your sales.