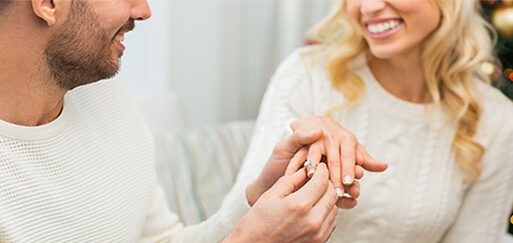 SPECTRUM – Voices from the Diamond Industry #10
Welcome to the 10th edition of our SPECTRUM diamond news blog, with all the latest hot topics and trends from the diamond industry. There are some heavy-going geopolitical pieces featured in this edition, with Frank Kane writing for Thenational.ae on the call by the Kimberley Process for a UN Body to oversee the global diamond trade and Dipanjan Roy Chaudhury reporting for Indiatimes.com that India is likely to sign a diamond deal with Russia. But there are also some educational and fun pieces, like Michelle Graff's list of 7 Mistakes of Christmas Past for National Jeweler Magazine and our Diamond Tweet of the Week from @CelsteelDiamond, talking about the history of the Beluga Diamond which weighs in at 103 carats, and more…
National Jeweler Magazine Online
By Michelle Graff
Apart from being an excellent source of interesting tidbits about diamonds and jewelry, The National Jeweler Magazine have put together this wonderful list of 7 Jewelers who share their biggest holiday season blunders and lessons learned. Take as one smile-inducing example, Cathy Calhoun of Calhoun Jewelers in Royersford, Pa. She used to run an annual Oscars bash with 'Carat' cake housing surprise gems for her guests to enjoy. Until word got out about the little treats in the cake and pandemonium broke out. The lesson learned: Know when an idea has run its course. What was fun and created buzz in the beginning soon evolved into an over-advertised mini-nightmare complete with cake-crazed children. Well done to the National Jeweler and Michelle Graff for putting out such an educational piece.
Kimberley Process Chairman Calls for UN Body To Oversee Global Diamond Trade
www.thenational.ae
By Frank Kane
Frank Kane writes for The National Business Section about recent call by the UAE, as the chair of the Kimberley Process (KP) organisation that regulates the global diamonds trade, for a permanent body under the auspices of the United Nations to oversee the multibillion dollar business. Ahmed bin Sulayem, who heads up the UAE's KP chairmanship for 2016, has written to all members of the Civil Soc­iety Coalition (CSC), the group of non-governmental bodies involved in the diamond trade, asking them to back the new proposal for a UN body as a "genuine effort to bring back peace into the KP family in the interest of all stakeholders". Read the full report to understand what this will mean for the diamond industry.
India Likely to Sign Diamonds Deal with Russia
economictimes.indiatimes.com
By Dipanjan Roy Chaudhury
According to this Indiatimes.com report, India could soon put in place regulations to end the role of intermediaries in the import of rough diamonds from Russia that would expand bilateral trade and boost this lucrative industry which involves hundreds of traders and workers from Prime Minister Narendra Modi's home state of Gujarat. Apparently issue will be discussed when Modi meets Russian President Vladimir Putin when the two meet in Goa on Saturday at the 17th edition of the annual summit. These new regulations could mean a relaxation of the restrictive taxation and customs procedure which Indians have to follow when importing rough diamonds. But is that a good thing?
How One Artist Is Turning Beijing's Smog into Diamonds
www.bloomberg.com
Just when you would be excused for thinking this week's SPECTRUM blog was all heavy-going geopolotical analysis of the industry, we are delighted to share this story with you. This fascinating story, debuts Dutch artist and designer Daan Roosegaarde's "Smog Free Tower" which is now operational in the Chinese capital of Beijing. Using a positive ionization process, the air-cleaning tower captures tiny particles suspended in the air and filters them out. Since more than 40 percent of the collected pollution is carbon, he has struck on a novel innovation: using high pressure to convert the residue to diamonds, which can be sold as jewelry. It's certainly an innovative way to clean up the environment and create something beautiful out of something so unclean.
Dad Rocks! Washington Father, Daughter Find Big Diamond In Arkansas Park
www.nydailynews.com
Who knew there was a park in Arkansas where you could pay $8 to enter and dig around for diamonds, and the best part is that you get to keep what you find. That's exactly what happened when father, daughter team Dan Frederick, 52, and his daughter Lauren, 23, found a 2.03-carat white diamond less than an hour after entering Arkansas' Crater of Diamonds State Park, and all for the lowly price of $16. We know where we are headed for our next family vacation.
Diamond Tweet of the Week is brought to you by @CelsteelDiamond, talking about the history of the Beluga Diamond which weighs in at 103 carats.
The Beluga #Diamond was cut by the William Goldberg firm from a 265.82-carat rough and weighs 103 carats!💎🌟#Diamonds pic.twitter.com/USzmETWRMq

— Celsteel (@CelsteelDiamond) October 17, 2016
We hope you enjoyed this week's SPECTRUM blog post, be sure to respond in the comments or tweet us @SarineTechltd or follow us on LinkedIn.