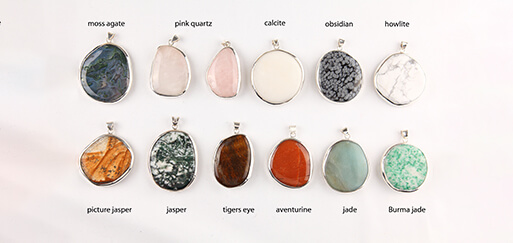 Guide to the Most Popular Colored Gemstones
While diamonds will never lose their luster in terms of popularity, a new trend is emerging in both the high fashion jewelry industry as well as the engagement/bridal market. Colored gemstones have been trending since early 2015, but have recently been gathering more steam. These colored gemstones have been spotted at high profile auctions, in the windows of high priced jewelry shops, up and down the runways, and adorning some of the most beautiful celebrities at the most widely publicized events, such as red carpet premiers and major awards shows.
Colored Gemstones: The New In
One of the more popular new trends in colored gemstones is raw minerals and rough gemstones. Rough and natural in form, tanzanite, amethyst, pyrite and more are making their way down the runways of popular brands such as Elie Saab, Givenchy, Dries Van Noten and others, displayed as large pendants, dangling and chunky earrings, and bohemian style rings. The rough and raw stones are unique in nature and represent a more free, easy and natural lifestyle. Tanzanite in particular has become enormously popular, rising in both trend and value since the 1990s, thanks to the fact that the stone is 1,000 times more rare than diamonds. Only one mine in the entire world, located, as its name might give away, in Tanzania, produces tanzanite.
Other popular stones include those with high rarity value, such as rubies, sapphires and emeralds. Emeralds in particular are a favorite of jewelry designers Van Cleef & Arpels, who have featured emeralds in many of their collections. Part of the emerald's allure is the fact that they only come in one color, rather than a variety of hues, such as sapphires and jade.
According to Bonhams, there has been a 2,200% rise is the prices achieved for colored gemstones within the last ten years, and experts in the industry have declared that "the colored gemstone revolution is most definitely back".
Who's In The Know?
Not only are designers getting in on the action, but many stars and celebrities have taken this new trend to heart, sporting colored gemstones all over runways and even in engagement rings. Jeweler Gemfields has signed actress Mila Kunis as their spokesperson, while Angelina Jolie and Beyonce have recently been seen with the gems at big events. Kate Middleton, the Duchess of Cambridge and media darling, wears an engagement ring that bears a huge blue sapphire centered in the middle of a ring of diamonds that once belonged to Princess Diana.
Recently a new gemstone has emerged on the red carpet. Jade was worn by both actresses Jessica Chastain and Nicole Kidman at different events. The most pure and translucent form of jade is known as Jadeite, and it is also the most valuable. Jadeite ranges in color from deep green to lavender, white and even black. Color can factor into a stone's popularity as much as value. Blue has been all the rage in colored gemstones in the last year, with Cate Blanchett sporting a beautiful tourmaline, turquoise and aquamarine necklace at the Oscars. Blue Opals have also been spotted making their way down many designer runways.
Why Colored Gemstones?
There are many reasons consumers are taking up the obsession for colored gems. In this millennial driven world, many are drawn to the unique properties of colored gemstones. Consumers feel that they are getting an individual piece that better represents them, their style and their personality. Colored gems allow them more input into their self-expression than diamonds do. Millennials are also driven by their attitudes towards marriage and the idea of being less traditional than previous generations.
In addition, diamonds cause more of a financial constraint in a generation where many consumers as a whole are better educated, but lower paid. Unlike diamonds, colored gemstones allow consumers to buy a larger gemstone for less money.
Just as diamonds require much planning and precision in order to produce the best end result, so do colored gems. There are tools on the market that make producing the finest colored gems easier than ever before. With gemstones currently making a splash in the market, these tools only help to boost the industry.